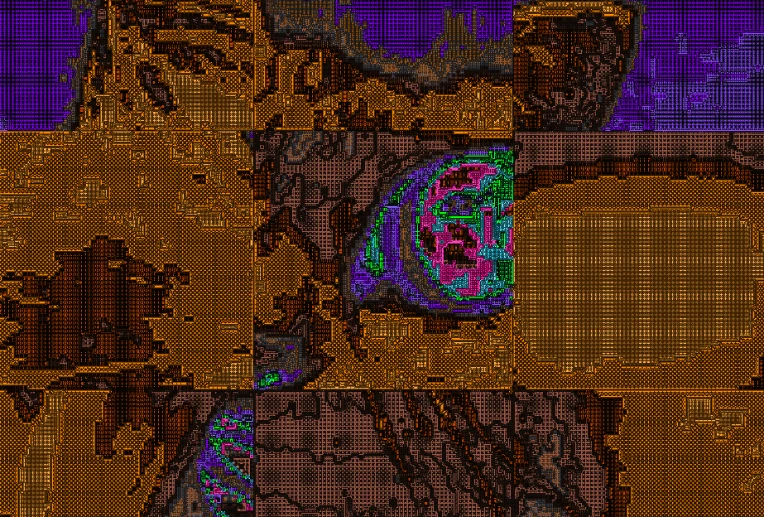 I don't know if anyone goes to newgrounds anymore.
But here is what happens when I load a 512x512 image into my engine.
A 512x512 image of a cat with... probably a bowtie.
All of my levelpacks are encoded into 512x512 images. So I can use ANY 512x512 image and
interpet it as a levelpack. Which gets some interesting results.
None of you may read this. But I am thankful to each and every one of my testers who
tested "Atomic Alice" back in 2012. I am sorry I never finished it.
I am re-writing the engine for that game now as we speak. Maybe in the next few years
I will have something awesome for people to test again.
I am making an MMO called "Atomic Ivy MMO" .
It is going to be like Atomic Alice, but be open world.
There will be 4 "Linear Paths" for linear gameplay carved into the MMO.
At the beginning of the game you can choose 4 directions:
Upwards
Downwards
To The Right
To The Left
As long as you go directly in one of those direction, you stay on one of 4 linear game paths.
Think of these paths as the "Main Streets" that cut through the MMO's world.
If you get off of one of these "main streets" you are no longer in "linear gameplay".
I made a blog for the MMO progress.
https://kanjicoder.blogspot.com/
https://atomic-ivy-mmo.uk.r.appspot.com/
Email Me:
Personal: HeavyMetalCookies@Gmail.com
My New Alter Ego : KanjiCoder@Gmail.com
-John Mark / MakeGamesHappen / KanjiCoder / HeavyMetalCookies